Design and installation process
An Introduction

Black Noetic theory is a concept and practice that organizes the interconnections between experiential knowledge and experimental modes of production.

Noetic comes from the Greek term noetiko, relating to the mind or intellect. Borrowing from the Institute of Noetic Sciences, noetic is defined as "inner wisdom, direct knowing, intuition, or implicit understanding." A noetic experience can be understood as gut feelings or insights that seem to come out of nowhere. A Black Noetic experience locates the spiritual, the ancestral, and the ecstatic.

Black Noetic theory continues the study of intution and pivots toward Kevin Young's inquiry on the art of escape in Black American history. In The Grey Album: On the Blackness of Blackness, Young writes, "I'm interested in the ways the fabric of black life has often meant its very fabrication, making a way out of no way, and making it up as you go along " (17). Despite cultures of violence and dispossession, there has always been a will to escape, invent, improvise, and survive for the Black figure. To make a way out of no way is a kind of improvisation that refers back to noetic ways of knowing (or feeling). My study on the ways that knowledge is produced and expressed begins with the body, in the body, and the embodied.

The Body & Embodied

As a former athlete, I have an awareness of the position of human bodies in a space, how they interact with one another, and how they respond to the environment. Competitive sports require athletes to develop multiple intelligences and skill sets through training, but also have natural instincts when under duress. The work in Resume at the Point of Interruption considers how the mind and body express knowledge in response to certain stimuli, specifically, congitive knowledge and emboied knowledge.

Cognitive knowledge is information acquired and understood through experience and reflection, such as how physical sensations communicate to and with the brain (i.e., patterns of habit between bodies may signal a sense of pleasure as a result of previously shared intimacies). Embodied knowledge is based on a range of psychological experience which the body knows how to act.

Resume at the Point of Interruption
Year: 2022

2-channel, digital video, HD; 4 projectors, media players, suspended jumbotron screens, speakers, subwoofer
Duration: 30 mins 52 sec

Film still as a window vinyl mural on West Broad St, Richmond, VA
Motion Capture VFX by Markus Clipper

Design process, courtesy of ICA at VCU and Cut Cut Creative
Resume at the Point of Interruption is an experiemntal portrait about the reservoirs of resiliency and the worlds it enables through the body, improvisation, and spirituality. Serving as an emerging archive of Black life, the film establishes documentary and sonic forms as a space for storytelling and preservation.
Ania Szremski:

This experimental documentary, which lends the exhibition its title, follows Black individuals—including the artist—as they intuit and improvise their ways through the world. In the chapter on washington-queen, we see the queer nonbinary photographer receiving hormone replacement therapy and meditating on themes of gender, difference, constraint, and freedom, and how they experienced the limits and possibilities of all those things while playing basketball growing up and negotiating their identity as an adult.

Combining photography, moving image, and archival material, this multipart video portrait draws from personal accounts and broader histories stitched together with textual sources, including the talk "Transgender Solidarity" by counselor and theologian Pamela Ayo Yetunde and poet Kevin Young's 2012 The Grey Album: On the Blackness of Blackness. In his collection of essays illustrating Black strategies of storytelling, lying, and improvising, Young writes, crucially: "If we cannot first imagine freedom, we cannot actually achieve it. Freedom, like fiction and all art, is a process in which the dream is only the first part."

As we start to imagine freedom, washington-queen observes here, there may not be a clear blueprint to follow. Resume at the Point of Interruption illustrates how the Black figure, tasked with envisioning a new and different future, responds to obstacles, conflicts, crossroads, and threats with gestures—a fake-out, a doubling-back, a pivot—that may appear illogical, but which are in fact the creative gestures that will allow them to chart a course to elsewhere.

Participants (by appearance)

dana washington-queen
Inpu Ka Mut
Racha Tahani Lawler Queen
Colin "Versis" Palmer
Additional Recordings

"Poem for South African Women"
By June Jordan
"Transgender Solidarity"
By Pamela Ayo Yetunde
Appears courtesy of Pamela Ayo Yetunde and Liberate Meditation
Credits

Camera: dana washington-queen
Video Editor: dana washington-queen
Composer/Sound Design/Sound Editor: John Dombroski
Motion Capture VFX: Markus Clipper
Songs (by appearance)
"No Problem" (part 2 drum solo)
Performed by Art Blakey and the Jazz Messengers
"Mabhongo"
Performed by Miriam Mekeba
Engineered & Mixed by Josh Abbey
Mastered by Ted Jensen
From the album
Sangoma
"Untitled" (Traditional Zulu Sangoma Ceremonial Song)
Percussion by Racha Tahani Lawler Queen
Maracas by dana washington-queen
"v."
Performed by Versis
Written by Versis
Produced by T. Hemingway & SWARVY
From the album
Versis
"Travelin'"
Performed by Versis
Written by Versis
Produced by T. Hemingway
Mastered by Dave Cooley
Mixed by Jordan Lee
From the album
iLLCANDESCENT
"do what i do" (a'capella performance)
Performed by Versis
Written by Versis
Produced by SWARVY
Mixed & Mastered by SWARVY
From the album
Anti-Anxiety
"AMÁNDOTE"
Performed by Versis
Written by Versis
Produced by SWARVY
Executive Produced by TOKAYO
Mastered by SWARVY
From the album
VíA DEL SOL

"potion"
Performed by lojii & SWARVY featuring Versis
Written by Avery Domingo, Colin Palmer, and Mark Sweeney
From the album
DUE RENT
Appears courtesy of Fresh Selects
"Untitled" (drum solo 1959)
Performed by Art Blakey and the Jazz Messengers
Recorded at Au Théâtre Des Champs-Élysées
"You've Got to Have Freedom"
Performed by Pharoah Sanders Quintet /Pharoah Sanders
From the album
Africa
Field Goal, Goal Tend
Year: 2022
Installation process


Smokless tobacco and coffee ground mixture for the natural material/product used to create imprint for hand slapping the basketball backbord.



See

"Proof of Flight"
Ania Szremski:

Field Goal, Goal Tend draws on this deep history and links it to present modes of discipline, surveillance, and labor that exist in the field of sports. The work includes a sculpture of a fan-shaped basketball blackboard covered with handprints stained from nicotine chew and other farmed products. Above the sculpture, a CCTV camera streams a live feed of visitors in the gallery—prompting the viewer to become conscious of their own surveillance as they observe Black art and the Black subject in history, and their own relationship to all those things.

The work also includes yellow gym wall pads beneath the sculpture and yellow barricades surrounding it. On the road, yellow is a color of caution, of yielding. But yellow can be many more things besides. For washington-queen, it can be the color of optimism, a color of the mind, a color that prompts mental agility and heightened perception. The artist associates the color yellow with the themes engaged by their research and the resulting artworks they create. Yellow is the hopeful color of the freedom that foregrounds this exhibition—a freedom that requires creativity, improvisation, and artfulness to be achieved.
Proof of Flight, Digital Video, 4K monitor, 2022
Installation of tobacco leaves.
Virginia grown tobacco leaves.
Natural jute twine nailed to cedar plank used to string tobacco leaves.
Ania Szremski:


Unmanned cameras like the "slam cam" and "sky cam" were introduced to basketball courts in the 2000s for instant replays and call reviews, both for the benefit of spectators and for referees to make more precise rulings based on evidence that would escape the naked eye.

The "slam cam" is a motion camera installed behind the backboard and on the shot clock to capture action at the rim. These cameras allow us to glimpse players laying up the basketball, dunking, rebounding, blocking the ball, or striking the blackboard—all gestures that demonstrate particular feats of athleticism.

Proof of Flight is a durational video composed of footage from a "slam cam" mounted on a sculptural backboard marked with prints made from slapping hands stained with nicotine chew. The work ties the surveillance and commodification of the Black sporting body to the surveillance and commodification of the Black enslaved body enlisted in crop production. The repeated, looped striking gesture illustrates how a body that is transformed into both product and producer gradually gets worn out, used up, and discarded over time.

Ode to AND1 Basketball: Notes on the Sporting Black Body
Year: 2020

Ode to AND1 Basketball, Digital Video, HD, 8 min, 2020
Picture Collage (made by Dannielle Washington), Photograph, 2000s


Anaheim Colonists Varsity Women's Basketball, Anaheim High School, 2002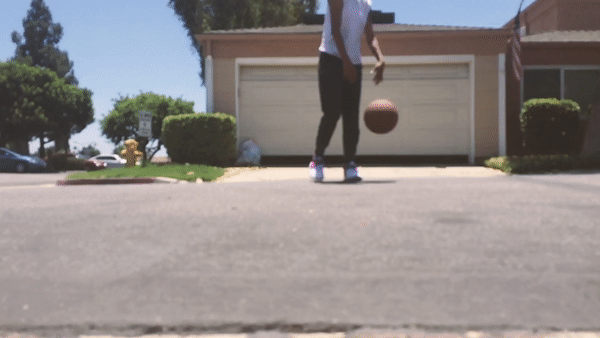 Current State of Everything: Body As Archive, Gif, 2019
Ode to AND1: Notes on the Sporting Black Body
is an analytical video essay that uses archival VHS footage from the
AND1 Mixtape Vol. 1
(1998), documentation of a travelling basketball competition and exhibition presented by the sports apparel company AND1. The work illustrates how video editing techniques can extend the meaning and motion of the Black body in digital space.
Personal History:
I was raised to be an athlete. My sisters and I participated in organized sports since we were five, our athleticism and church upbringing set the tone for us being and becoming in the world. Tee-ball baseball was the introduction, softball kept us ambitious, however, basketball gave me an identity. It brought a sense of authority and discipline, driving me toward an unceasing evolution as a player, as a creator. In my youth, AND1 Mix Tape Vol. 1 (1998) and AND1 Mix Tape Vol. 2 (1999)1 were resources studied religiously until the tapes unraveled.

As a child, I memorized the streetball player's mastery on the court. In dream-state, I envisioned my body within their performing / competing bodies, knowing their perception on the court. I was expectant and capable because I could see it. And, because I could see it, I knew it. Every day, after finishing my homework, I would pass up the hoop on our rooftop for the sidewalk and dribble inside the squares: high-stepping, pounding the ball into a cross-over, head fake hesitation, between the legs and around the back on any imaginary defender that stepped to me.

The isolation was voluntary, the imagining was a result. It was meditation wrapping myself up in memory and vision, in mimicry of motion not my own but becoming mine. In these moments, my focus separated my body from the surrounding world. The repetition of movement sparked an energy inside of me. Every elusive jolt more spiritual than the last, anticipating something not yet and something just becoming. Every thought edging closer to trance until I embodied the streetball player's motion, an affective experience of transformation. There has always been a knowing in basketball, it's biological, psychological, and sociological.